Reach and Frequency Measure in Report Builder
Overview
Reach and Frequency measures allow you to understand how many people have seen your ads and how frequently the same people have seen the ads over a certain period. This also allows you to evaluate the budget for reaching a specific audience.
Reach –The unique number of people or households exposed to a given medium (campaign, line, or deal) at a given time.
Frequency –The average number of impressions exposed to a given user or household.
How it Works
Reach and Frequency metrics are available for the following reports:
Performance
Inventory
Platform
App
Domain
Geography
You can see the Report and Frequency under Measures: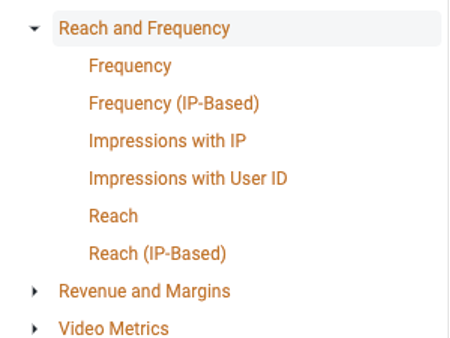 In the Reach and Frequency section, all the fields share a field group associated with user role permissions, Can Access Reach/Frequency Metrics that can be hidden or shown to specific roles.
Currently, Reach and Frequency metrics support the following types of identifiers:
User ID (set as the default option) – uses BITO, MAID, IDFA, or similar identifiers when available.
IP Address – uses the IP Address when available.
Combination of Identifiers using the 'fallback' mechanism. When using the fallback option, the best available identifier for each impression is used in the calculation. More information on how fallbacks work can be found in the Frequency Caps page.
You can add and aggregate these metrics on any level of dimensions available within a given report.
Please speak to your Account Team to enable these metrics.
Frequency Calculation
The average frequency for a given user or household is calculated:
Average Frequency = Total Identifiable Impressions / Reach
We can only consider identifiable impressions for accurate calculations. If an impression does not have the selected user identifier available, then the impression gets omitted from the Reach and Frequency calculation. For example, when using browsers such as Safari, it may not be possible to identify User IDs to determine the uniqueness of a given impression. In such scenarios, impressions get omitted from Reach and Frequency calculation.
FAQs
How does GDPR or CCPA affect Reach and Frequency calculation?
To maintain compliance with GDPR or CCPA, we can use the data internally to produce aggregate numbers. Otherwise, we can filter data when required.